Trukkin is known for providing a full-bodied trucking system in entire Saudi Arabia and holds an esteem status in the said field too. To rally round the customers that mostly belong from both small and big business houses involved in freight movement, Trukkin has come out with an astounding series of services with amazing counterparts. From the past several years, we have made our space intact among the list of inclusive trucking companies. Whether it is time, varying capacity, or retail distribution, we at Trukkin will not make you be disappointed. It is because our services are a pure blend of elated transport and a peculiar supply chain flow system.
The first requisite that has been followed by us in Trukkin is related to an intensive service, which in simple words is also known as dedicated trucking service. To create a working atmosphere and attain customer's satisfaction, it is imperative to meet up the disciplinary needs. It is the reason; we are destined for our team mates to manage the logistics and transportation operation after going through in-depth down research. It is a mild implication as to why we have been serving the countries in and outside borders for the last many years.
Time to time, the need for freight movement varies, and it can be adjudged with the temperature requirements. The freights that are sensitive to temperature or weather of Saudi Arabia and are prone to get damaged will be served with immense care. For this, we have unleashed unsurpassed top-notch technological equipments. These equipments follow the guidelines of the international guidelines, as stated by the Saudi Arabia Transport Ministry.
Freight holding a dangerous or harmful nature will also get adequate care if you have chosen our trucking services for rent. We are here with not only safe but absolute solutions relying on government regulations. To handle the meticulousness of dangerous freight, we have crafted a safe approach, and the whole lot will be handled only by the industry experts. Hereby, we promise to deliver the freight in the given delivery spot without effecting the quality even for a bit.
Overweight freight or heavy haulage is not at all a matter of concern when you have chosen Trukkin as your freight movement in the entire Middle East. We are the definitive choice when it comes to Middle East trucking that can knob down any kind of burdensome requirements. To congregate the heaviness of the freight, we have experienced staff, supervisors, and a high-end requirement, which altogether unifies the task in one go itself. Plus, if you are concerned related to permits, then we request you to drop the ball in our court.
Customers of these days come up with a complex brief concerning the freight movement. The concern put up on the part of the customer is not wrong as it is done to avoid maximum damage. Also, we tend to endeavour in offering our services with no or minimal low-risk transport solutions. To extend our services on the tough road of Saudi Arabia, we have ensured to fill the family with A listed trucks, trailers, and containers only. The entire regime of freight movement from the initial to delivery stations are performed under specialized guidance for both GCC and within the boundaries of Saudi Arabia.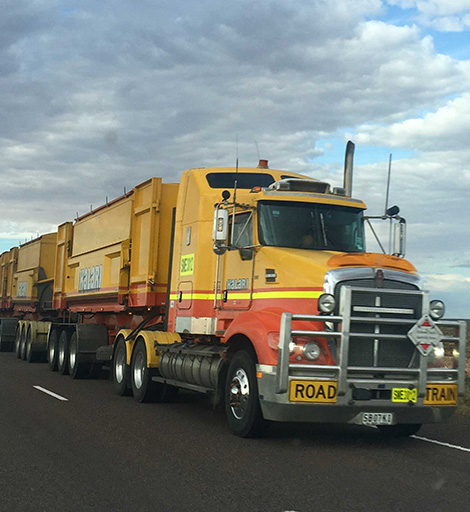 The freight movement regime has been mounting at an express rate, and to meet the demands, we have come up with some new and innovative solutions. Our trucking system is enlisted with customized features; this means the customer has the whole freedom to lock down their demands. Also, we lend a helping hand to our customers with critical, time-saving delivery and safe freight movement. To unite all the potential elements into one place, we have curated a team of specialized experts and masters of freight transportation who are best in streamlining the freight movement.
Trukkin covers entire Saudi Arabia with an exceptional goodwill response. We are one of the most reputed trucking companies in Dubai that will value your time and will serve the contract of freight movement in the least time flow. Furthermore, don't be bothered about the price structures as we are the ones who diligently work for your freight safety and profit aspects.